I'm an instant gratification junkie and for as long as I can remember I've been looking for the right key that will instantly unlock the door to everything that I want: love, approval, a sense of belonging, joy, material things…
Over the years, I've told myself countless happy ever after stories about what that key might be:
Lose weight, have the perfect body, meet the cute guy who would fall hopelessly in love with me, get married and I'll be on the road to happily ever after!
Get an exciting, high paying job, make tons of money and everything will work out perfectly!
Sell most what I own in Cape Town, move to California, and live the American Dream, here I come!
Train as a Life Coach, figure out and resolve all my own issues, start my own business and I'll be there!
Every time when things don't quite work out as per my daydreams, I tell myself that I just haven't found that perfect key yet: the diet, guy, career, money, location, enlightenment.
I've spent many hours in bookstore self-help sections searching for that key. If I can find the Right Teacher, they will tell me exactly what to do and I'll have the instant solution that will unlock the door to all the answers. I read Susie Orbach, Louse L. Hay, Geneen Roth, Harriet Lerner, Martha Beck, Brooke Castillo, Eckhart Tolle, Abraham Hicks, Byron Katie, to mention a few.
But I didn't find instant solutions. Those books expand my horizons and feed my soul with insights and wisdom, but there is never a happy ever after. Though I've made progress and learned a lot, I still sometimes struggle with the same issues and just haven't yet found that perfect key!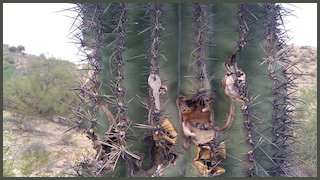 And then a few months ago, I was hiking in South Mountain when something unusual caught my eye. At the time I had no idea what made me pause and look more closely at the Saguaro next to the trail. Dangling over a thorn was a key! After the obvious speculation around how it got there, what door it might open, and what the story might be, I started playing with the metaphor and it held fascinating insights for me.
The keys I keep looking for are not to be found in the obvious places – on the outside with all those wonderful teachers and gurus. Yes, they all have wonderful lessons for me, but only I have the key to my own personal solutions. And to connect with my those solutions, I need to stop and be still.
Just as an impulse made me stop at that exact spot along the trail, I need to stop along the trail that is my life. What I did that morning was take a break. Pause. Be still. Notice what was going on around me. Only then did I see that key that I've missed so many times before.
Just as that key on a Saguaro out in the desert, my personal key is also unexpected. And the way to find it is through stillness.
Stop. Breathe. Listen. Get inside my body and be still. That is my big key.
And it's not like the Happy Ever After stories. It's more of a keep using that key thing: Every day, many times a day.
Stop. Breathe. Listen. Connect to myself inside my body and then feel that connection to everything else. The bliss of just being! It's not outside there somewhere. My Guru lives inside me.
And that key isn't an ever-after-now-we're-done instant solution. It's a keep-coming-back-to-it-daily-practice kind of a thing. I know for a fact that I will slip back into feeling empty because I want "love, approval, a sense of belonging, joy, material things" again, but now I also know that I have that key anytime I choose to use it and connect to what fills the emptiness.
I'd love to hear about where you've found keys that connect you to purpose in your life.