A great Hosting Platform is one of the basics that we need to set up a solid, well-supported platform for your website. My favorite Hosting Platform is HostGator and here are a few of the reasons I like working with them:
my own sites are hosted there and in over 4 years, I've never had issues with my sites not being available
a CPanel interface that allows me to easily get to the backend of websites when I need to
excellent support – I LOVE their online chat feature that allows me to talk to an expert 24X7 when I run into questions or issues with my own and client sites
unlimited domains and emails included in the Baby Plan
Below you'll find my affiliate link to HostGator.  Yes, I do earn commissions if you sign up using this links and the cost to you is the same as if you were to go directly to HostGator.  Though I would love you to sign up using my affiliate link, I'm completely happy with you choosing not to do so.
HostGator
Use this coupon to get a 25% discount on your annual hosting plan: MARYNA25OFF
Using the image link below, sign up for a HostGator Baby plan – this gives us all the flexibility we need.
While signing up, HostGator will invite you to sign up for these additional services: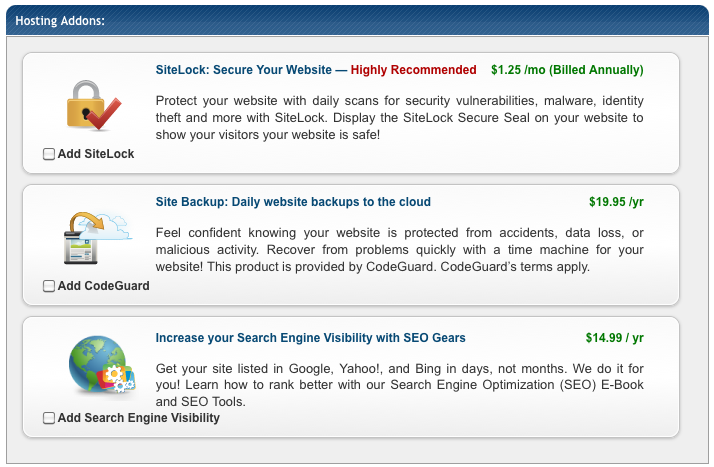 Depending on your budget, you can decide whether or not you'd like any of these services. I personally don't have them for my own HostGator account, but do believe they're worth having if your budget allows. I'm considering adding the SEO product to my account at some stage – it's a relatively new service that HostGator offers and wasn't available when I originally signed up for my account.
Once you've signed up for your HostGator account, please forward the email from HostGator to maryna@marynasmuts.com. I'll need the link and signup information there to configure your site and install WordPress and Thesis.